COVID 19 Click here for all information relating to Coronavirus
A very big "Hello" to all the children and families of Avonmouth C of E Primary School, we wish you well.
Photographs used with permission 2020
Music: "Ukulele" Royalty Free Music from Bensound - www.bensound.com
Welcome
A very warm welcome to Avonmouth C.E. Primary School & Daisy's Nursery.
Avonmouth Church of England Primary School & Nursery is situated in Avonmouth village and welcomes children from Nursery through to Year Six. Please take a look through the information on the website. We are extremely proud of our school and are delighted to celebrate the successes and achievements of all members of our school community.
We have high expectations for all the children in our school, both academically and behaviourally, and strive to meet the needs of every child.
Are you a from a non-UK EU country? Bristol has 21,000 non-UK EU citizens living, working and studying in the city. The Government has advised that all non-UK EU citizens must apply for the EU Settlement Scheme. To help protect the rights of EU citizens in our school community post-Brexit, we would like to make you aware of the scheme. All the information can be found on the following website - https://www.bristol.gov.uk/eusettlement
Latest News
DAISY'S NURSERY
Are you looking for a Nursery Place? We offer 15 and 30 hour fully funded places. Call the school office to arrange a visit.
Breakfast Club
To enhance our safeguarding procedures everyone attending breakfast club (Children & Adults) must sign in at the school office on arrival.
Breakfast will continue to be served from 8.15-8.35am. All children and adults must leave the dining hall when the bell goes at 8.40am.
At 8.40am, children can go straight out on to the playground, parents/carers will need to sign out at the school office. For Health & Safety reasons, it is not possible for parents/carers to remain in Breakfast Club after 8.40am.
Thank you for your support with this.
PTFA - Friends of Avonmouth volunteers needed!
We are hoping to recruit some more volunteers to support us with key events over the year. Without your help we struggle to do this. If you are able to help please let Mrs Webb, Mr Barlow or the School Office know.
Eco Team News
Eco-bricks
We are taking part in an exciting new recycling project.
Eco-bricks use lots of small non-recyclables such as crisp packets, cling film,
cellophane wrappers, bread bags, etc...
All you need is an empty plastic drinks bottle and a long-handled wooden spoon (or stick) to compact the materials.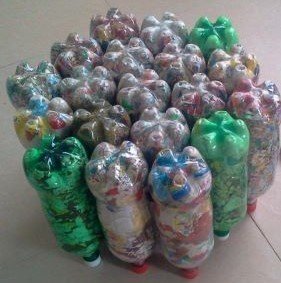 Go to www.ecobrick.org for further details. They need to be very compacted solid and heavy when they are finished complete with a lid.
When you have finished your eco-brick bring it to school and we can use it to build a project or take it to the Bristol collection point.
Safer Internet Day
Each year we recognise Safer Internet Day as part of our annual safeguarding plan. The theme, nationally, for this year is "Together for a better internet." Children across the school will be taking part in workshops and activities in class and we hope that parents and carers will take part at home too. https://www.saferinternet.org.uk/safer-internet-day/2020 is a great website which has a range of resources including conversation starters, fun and engaging activities to do with your children to help them think about being safe and positive online, how to create an Internet Safety Plan for your household and various fact sheets.
Safeguarding News
Mr Barlow recently attended an Online Safety Conference which focused on potential risks from children's online activity, how best to support children with remaining safe online and also the positive aspects that technology can bring. As ever, our main safeguarding message for parents, remains to be the importance of fostering trust and an honest dialogue between family members around the use of technology. The risks to children are greater if they feel unable to talk to trusted adults like parents and teachers about their internet use. We recommend you spending time understanding what Youtube videos your child is watching, ensuring you know what your child may be hearing if they are gaming online and using headsets to communicate. Please remember to discuss any E-Safety concerns with Mr Barlow, our Safeguarding Lead.
Water bottle and healthy snack
We have noticed that some children have been bringing other drinks in to school other than water. As a school, we are committed to healthy eating and helping the children to establish good habits with what they eat and drink. Therefore we kindly ask that children bringing in drinks bottles, either for drinking in class or at lunchtime, have them filled with water. No other drinks are permitted in school. Children in Nursery, Reception and Key Stage One receive a daily piece of fruit as part of the government scheme. Children in Key Stage Two are welcome to bring in a healthy snack to eat at playtime. This should be a healthy snack - preferably fruit. Thank you for your support.
Mrs Wood's latest book review
The Legend of Podkin One-Ear by Kieran Larwood
Although Podkin is the son of a chieftain, when we meet him at the beginning of the book he likes nothing more than lazing around and annoying his older sister. But when his home is attacked by the terrifying Gorm he has to leave his home, protect is family and try to defeat the most horrifying enemy rabbits have ever encountered.
The description of rabbit life and the environment is really captivating and detailed – you really feel like you are there. If you like rabbits, magic and adventure stories, you will love this book. It is a bit scary so I would recommend it for Year 4 upwards. And there are 2 more books in this Five Realms series to read next!
Mrs Wood
Reading Volunteers
Do you, or a family member, have some spare time during the school day? We are looking for some more volunteers to come in and hear children read throughout the school. Reading is such an important skill and providing the chance to read to someone else is great for the children and can help to develop their reading abilities. If you are able to help, please let your class teacher know. Mrs McAndrew, our Reading Lead, will be running sessions for all volunteers over the next couple of weeks. All help is greatly appreciated by the children and staff. In line with our Safeguarding policy, all regular volunteers will be subject to a DBS check.
Calendar
Latest School Diary Events
Inset Day

15

Jun

2020

End of Term 6

17

Jul

2020

3:15 pm - 3:45 pm

Inset Day

19

Jul

2020

Inset Day

20

Jul

2020

School Holidays

21

Jul

2020